smartQ integration with BigCommerce online stores combines the power of both, by loading and updating your BC orders in real time as tickets in smartQ: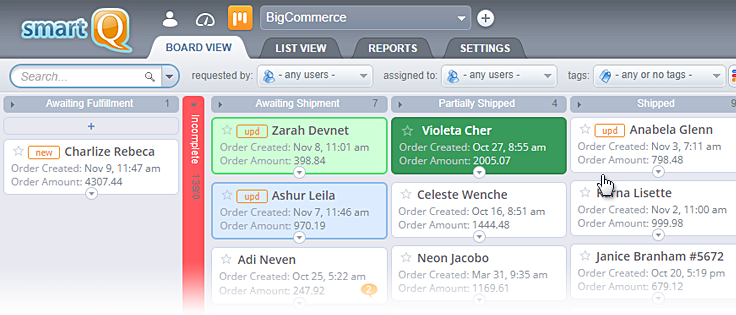 We created a ready to use smartQ project template that matches BC order flow, with smartQ custom fields linked to BC order fields: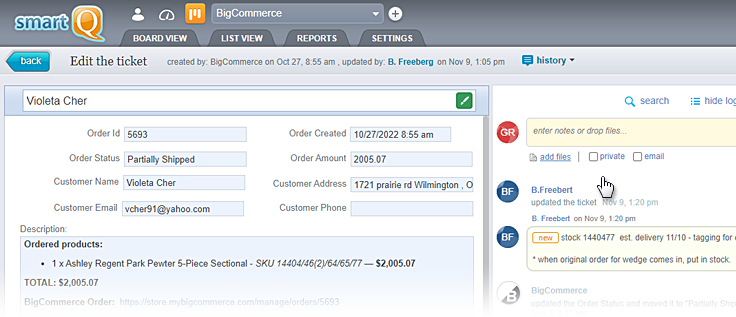 Order fields like Status, Amount, Customer information, etc.
Description field sums up all the important information, like the items in the order
Ticket logs capture changes as it is updated in BC
As orders status change in BC, tickets are automatically moved through the smartQ Board
You can combine it with other smartQ features, like adding your own custom fields, tracking notes at the ticket level, using the Automation and so on...
Connecting smartQ to your BC store offers a simple and efficient order management system: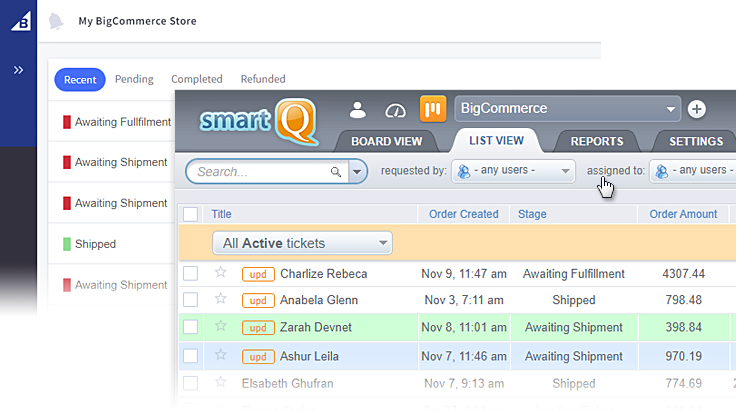 I manage everything with smartQ. Customer orders, updates, and more. Having BigCommerce integration within smartQ allows for all the information we need to be right at our fingertips and all in the one place.
smartQ is an extremely helpful tool and allows for all of our team members to be in the loop as well.
If you sell your products via different channels, not just BigCommerce, you can still use the same board for all your orders — simply create new tickets in smartQ manually, leaving the BC-specific fields empty. This way you can track in smartQ all your orders, either created in BC, or by a customer walking in, or via phone, etc.
You can install the smarQ app for BigCommerce via BigCommerce Apps Store.
Each store is different, so extra customizations are available on demand via our partners at orange5.
For more information, email us at: support@spam.com
Customer Story: Bargains & Buyouts
Our team started to use smartQ to manage our Special Orders. It replaced our whiteboard and allowed us to coordinate our two store locations more efficiently.
Realizing how flexible and intuitive smartQ is, we also started using it for simple inventory management. We have multiple computers between the store front and the warehouse and are also using the iPad/iPhone app on the go. Our team is so impressed with the product that we are exploring more ways to use it.
?

Check smartQ Help on this feature