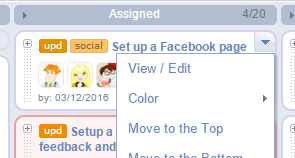 #1 Ticket menu
The ticket menu (available on mouse rollover) offers extra options, like
changing ticket color, cloning or moving it to another project
.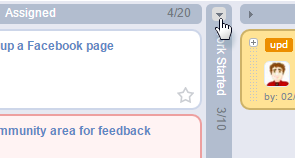 #2 Folding a column in Board View
Want to save some space in Board View? Simply fold the columns you do not need right now to hide its tickets.
Tips & Tricks
Automatic deadline reminders
Get regular emails with the list of all your tickets that are due on that day (or overdue) using our
Deadlines Auto-reminder.
Replying to an email notification
When you are replying to a smartQ email notification your message is automatically added into smartQ as a message in the respective ticket [
read more
].
Auto-archive
By default, tickets that end up in the last column of your board are auto-archived after a week. You can always change or turn off this feature via "options" menu.
To Add new columns to the List View...
right click on the table column header. Even custom fields can be added as columns.
To search tickets by other fields than just name and description...
use the dropdown menu on the search box. You can even search by text custom fields and ticket ID.
Users can open Google Drive links without logging into Google...
if you set its sharing level to "Let people view without signing in".
To see the ticket history...
open the Ticket View and check the "history" button on the top — it shows who created it, moved it and so on.
To fit more data on the screen...
Use the F11 button to switch your web browser into full screen mode.
Project/Ticket Team selector — show only selected users...
by clicking on the "selected: X" link on the bottom left of the team selector popup.
Did somebody try to login into my smartQ account?
To view Archived tickets...
use List View — there is a switch there to the Archive.
To export tickets...
use the Report export to CSV/Excel.
To hide tags...
use button next to the tags filter dropdown.
To restore a deleted ticket or note...
To get notified about new tickets...
To edit or delete multiple tickets...
To easily set project/board access rights...
without adding all users to the teams, simply edit the "Everybody Else" in Project Settings / Project Team — it sets the default access level for everybody not listed in other teams.
To hide cover images from tickets in Board View...
simply turn them off via Options/View settings.
To show custom ticket fields in Board View...
use the "Custom fields" button (the one with the "eye" icon) on the top of the board.
To add an image directly from your keyboard buffer...
(from example, one taken with Print Screen button on PC) simply use CTRL+V (Command+V on a Mac) when creating or editing a Note. You can also paste images directly into Board View to create tickets with image covers.
To see your tickets in a Calendar view...
To add a tag to a ticket created via Quick Add...
simply add the tag name after the ticket name, with a "#" symbol in front of it (example: "Blog update #social").
To make the email notifications enabled by default...
use the "Options" screen to turn those checkboxes on by default for Ticket or Note forms (Admin access required).
To display unique ticket IDs...
go to Options/Main Settings (Admin access required).
To limit access to your smartQ account by country, state or IP...